Feb 01, 2011
Altitude adjustment, skimo racing in the USA
Whoa, Nellie. So BB has had a slightly adventuresome last few months including many plane rides and multiple time zone changes. End of October I returned to the US from Chamonix to the great state of Minnesota to put the finishing touches on my wedding. The big event took place November 20th, 2010 in Naples Florida. It truly was an amazing weekend with great weather and friends galore and it was fun to put on a pretty dress. I finally sat down and updated the blog as well as fine-tuned the home and about sections- bout friggin time - check em out, some changes coming soon.
Shortly after the wedding in early December my husband and CMH Valemount heli-ski manager and UIGAM guide extraordinaire Danny Stoffel headed up to start the heli-ski season in British Columbia, Canada. We stayed there for a few weeks on a powdery honeymoon (we have been lucky enough to heli over one million vertical feet together) with one brief trip down to Breckenridge, Colorado to officially pass my PSIA level one ski instructors exam and race the first COSMIC ski mountaineering race of the U.S. calendar on December 11th.
CS Irwin Start, COSMIC Race Series courtesy of Kevin Krill
The CS Irwin race just outside Crested Butte, Colorado was unique in U.S. standards as it was entirely off piste - in fact we had to snowmobile or snowcat it over an hour to the start. It dumped the evening before the race and thanks to the dedicated staff of the cat-ski lodge we were assured a safe event and epic skiing. We climbed roughly 5100 feet (1600 meters) with three descents in the white fluffy stuff. For more info and photos on this first annual event, click here. It was my first race in the United States I realized very quickly that racing regularly above 10,000 feet (3000 meters) and often times touching 12,000 feet (3659 meters) I was going to either need some new lungs or an altitude adjustment. "Welcome to racing at 10,000 feet," event organizer Bryan Wickenhauser said as I fell across the line in 4th place. Man oh man was he right. These US racers have got some LUNGS. And as Pete Swenson told me about racing high, "Just get used to feeling bad." Good times.
After a nice Christmas at home in Minnesota with my family, I changed gears yet again and packed up to spend my winter in Aspen, Colorado. After a great New Year's welcome I started my new life teaching skiing part time for the Aspen Ski Company and working with For the Forest, a non profit organization dedicated to educating the public on the Mountain Pine Beetle and its impact on forest health and climate change and working on my personal travel concierge company.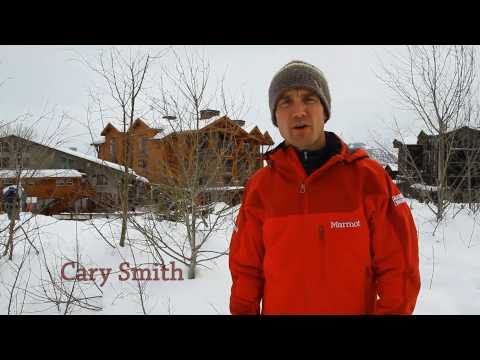 Aspen is chaotic over the holidays and after a few more days adjusting, Sari Anderson, Jari Kirkland, Brian and myself hopped in Sari's truck and drove seven hours North through nowhere ending finally in Jackson Hole, Wyoming for a double dose of racing. Saturday, January 8th was the U.S. National Championships and Sunday boasted the race in Grand Targhee. For a great video of the event click above. The weather was frigid, with driving snow that assured all frozen cheeks as we climbed up the ladder out of Corbets Couloir. Saturday's race boasted around 8000 feet (2400 meters) of climbing and descent and at Targhee a little less, 5000 feet (1600 meters). The skiing for both events was awesome with more than few back country powder turns. For results click here, for more coverage on Outside Magazine click here. For awesome photos thanks to Forest Dramis and Matt Gocke click here.

The weekend of racing at high elevation proved to be a challenge for me, at times I felt like I was breathing through a straw and was very sore. Each day I finished in 6th place happy to have crossed the line but not feeling as though I had a high gear and battling constant fatigue with some slight chest pain. I chalked it up to altitude and exertion. The level of competition in the U.S. is growing and the women's field is comprised of some impressive pro endurance athletes who like to race as well as have a good time. After a week of rest and recovery we would all meet again at the Sunlight Heathen Challenge, the third and final qualifier for the Ski Mountaineering World Championships in Claut, Italy the end of February.
http://www.vimeo.com/19020705
At sunlight we were rewarded with a beautiful day for racing and I was really enjoying getting to know the small crew that comprises U.S. Ski Mountaineering. The course was a little more technical - as technical as we can be here in the states due to insurance costs and terrain. Off the line of the race, I realized something was very wrong, no pushing through this pain. I was constantly dizzy, light headed, chest pain, high heart rate and finally on the advice of a friend I stopped the race about an hour in. Frustrated and worried I vowed to see a doctor when I returned home. While disappointed not to race it was much more fun to skin around and be at the finish to cheer on the men and women. For results on the great Sunlight Heathen Challenge, click here.
People often wonder why we are so behind Europe in regards to this sport. The COSMIC series and others are born out of the passion of a few dedicated individuals like Mona Merrill and Pete Swenson who sacrifice their time and personal investment among other things to produce these events. In the U.S. we do not have the infrastructure that is so readily available in the Alps and we suffer from a severe a lack of funding. Its often difficult, expensive, and time consuming to get the proper gear since we are such a small market. Often excited participants wait weeks for their gear and have to search for accessories. The crew that drive from race to race each weekend in hopes to grow this sport are to be commended, while we may not have the great courses and technical terrain the Alps provide, U.S. Ski Mountaineering has definite heart (and lungs) and judging from the number of people I see touring each day it is growing - it will eventually get there.
Lyndsay and Sari Anderson, winner of the CS Irwin race, The Sunlight Heathen Challenge and Camp Crested Butte
After some testing in Aspen I was diagnosed with temporary reactive airway syndrome. Apparently the cold I had over Christmas didn't heal, instead, aggravated by the cold, high, dry air it caused my airways to swell and created an asthma like situation for the past month. If you can't breathe, you can't do much - more importantly you can't get CO2 and clear metabolic waste out causing soreness, headache and extreme fatigue, I have incredible new respect for people that live and compete with chronic asthma. In fact 10-15% of Olympic athletes compete with this ailment. After some medicated inhalers and two weeks rest (with lots of steam rooms and yoga
I began competing again careful to adjust my training in regards to the high elevations. I was told it takes roughly three months to become 70% acclimatized. Training up here adds a whole new challenge to the sport but I am confident it will make me a stronger more aware athlete. Thanks to Michael Tobin and the folks at Aspen Performance Center I am gonna get it all dialed here shortly. As one friend told me the best part of feeling bad for awhile? Pretty soon you are gonna feel good.
The US is sending some talented new athletes over to the Ski Mountaineering World Championships this year in Claut, Italy and while I am happy to have the opportunity to go again for the third time, instead I will head back to Chamonix in March to ski some big lines I have my eye on and do some of the classic end of season ski mountaineering races. I feel lucky to have experienced racing on both sides of the pond, each atmosphere presents its rewards and challenges. In the Alps we have incredible technical terrain, long descents, tons of support, great culture, fans and guides who set fantastic kick turns. Here in the US we learn to race high, deal with the cold, recover well, deal with skin issues and ski some sweet powder. All of this combined can only someday produce top racers ready to tango with the best. Ready to get involved? Click here.
Best of luck to Jessica Phillips, Janelle Smiley, Jari Kirkland, Nina Silitch, Pete Swenson, Bryan Wickenhauer, Max Taam, Chris Kroger, Scott Simmons, Travis Scheefer and Luke Nelson - and to anyone I have not listed, Brava (bravo) and Andiamo!