Oct 29, 2010
Swiss Xterra Magic
Xterra, ever heard of it? Not the car by Nissan but instead an organization that excels in putting on rugged off-road race events. Xterra is code word for gnarly race=crazy fun and as their web page says. "uncover one rock, root and mud puddle at at time." And even better, while you are playing in the dirt, part of race proceeds go to benefit appointed charities.
A few months ago on September 10-11th (a bit off the back with the update) I finished the first ever Swiss Xterra Classic Distance (there is also a shorter sprint distance available) which also did double duty as the European Xterra Championships. The rad race took place just outside of Geneva on Lac Leman in the quaint village of Pralognan. The field was stacked with pros, nine women and eleven men hoping to capture some of the hefty prize purse - including Olivier Marceau who has competed in triathlon in the Olympics for Switzerland. The age groupers (like me) were also out in force and together we were a crew of roughly three hundred competitors ready to get dirty.
I missed the exit to Pralognan and rolled up a bit late and ran to check in. A nice referee put my bib on my bike while the mean one next to him said I would normally not get special treatment. Okay buddy, it was a bib and zip ties, I could have handled it, I think your pal was just trying to be nice. I thanked them both and found my number in the transition area. I had lots of room for a change and the women around me immediately smiled and started talking to me as I unpacked my bag. For most this was their first Xterra. I had done one previously in Buffalo Creek in Colorado. Set in the middle of no where most competitors car camped the night before.
Coming back to triathlon is always a huge eye opener and the Xterra is no exception. Extremely well organized with great sponsors, pro athletes and prize money these events generate a huge following around the globe. Xterra not only organizes off road triathlons, but numerous other events as well and have created their own presence known as the "Xterra Planet."
People seemed a bit more relaxed roaming around transition and perhaps it was due to the "gnarly" and rough and tumble aspect of the race. For example, instead of heats all 300 of us started the swim together with the pros out front.
The start was not without its issues - while we were lined up waiting for race director "Kahuna Dave" Nicholas to give the welcome speech I experienced my first ever triathlon false start. The front line mistook a sharp noise for the gun and took off. The second line kinda looked at each other and I could see we were all thinking the same thing - ummm what gives? should we go? should we wait??? I sat tight while the kayaks caught up with the lead swimmers and herded them back to the line.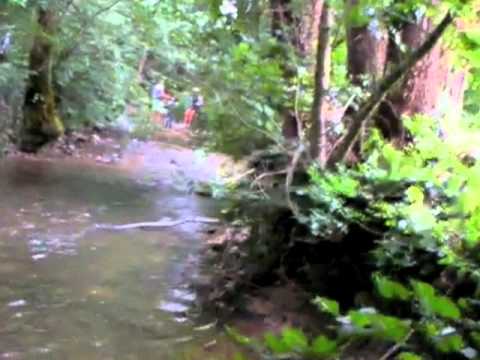 Order once again restored we waited while race officials gave us a proper send off - and en fin, the gun sounded. I dove out front behind the pros and pegged it hoping to get away from the madness. It was not to be, 300 people in a narrow lane was akin to swimming bumper cars. Keeping my eye on the bright caps of the female pros I held on swimming over under and across people. The course consisted of two laps around four buoys keeping all markers on the left. Round the last buoy I exited the water to hear my name called and was fired up - I had broken 23 minutes marking the 8th female to enter transition. I was sure the mass chaos including the large man that submerged me as he pawed over me would be a slight set back. I guess the fight or flight syndrome was in full effect. I definitely fought and there is no not thinking of survival in a mass water tri start.
Out of transition onto the mountain bike for two laps of about 17k. The course crossed private land (video above was made to allow racers to check out the course) and heralded numerous water crossings some of which required sliding down rocks into knee deep water with the bike in tow. In contrast to my other races the route was flat and often times like riding over a washboard, not so comfortable! The trail crossed cornfields, vineyards and more than once racers waded waist deep in streams with the bike up high. The water was hard to navigate on sore legs and other walls and obstacles required getting on and off the bike numerous times which also became tiresome. It was a totally different kind of mountain bike racing than I had done previously that summer and I found the course almost more difficult due to the flat terrain. At one point I was almost wishing for the long climbing grinds of the Grand Raid.
After a mediocre transition on my part it was time to run. I chose to put socks on since my feet got beat up on the last tri when I ran with none which is a time waster and I lost a place. The course ran us through uneven fields, forest trails and past one smelly pig pen. Two laps of just over three miles ended with an awesome hurdle over chest high hay bales. A perfect way to end the race.
After we all settled down and cleaned up, Xterra treated us to a Hawaiian BBQ on the shores of Lac Leman while the awards were presented. Finishing second place in my age group and inspired by a tough field of pros I decided I was most definitely a convert to the world of Planet Xterra. A special thanks to Swiss Xterra Organizer Pierre Alan Frossard for putting on an amazing event, we will see you next year. Bravo to all the finishers and congrats to the winners. Ready for your own adventure? Xterra has a whole whack of races out there check here for one near you! Below are the top finishers and a fun video of the event (in Spanish) but great camera work!
Homme Pro
1. Olivier Marceau [FR-SUI], 2:19′33"
2. Luxem Yeray [BE], 2:21′43"
3. Dietz Ronny [DE], 2:22′32"
Femme Pro
1. Marion Lorblanchet [FR] 2:40′53"
2. Renata Bucher [SUI] 2:42′53"
3. Emma Ruth Smith [ANG] 2:50′07"