Aug 18, 2010
Master Swim, Chamonix Style
Chamonix is a mecca for all things deemed "extreme." Dozens of sports can be tried here all with the impressive and stunningly beautiful backdrop of the peaks of the Mont Blanc Massive. Some sports are more user friendly than others.
The swimming pool and master swim club is no different. It took four years to rebuild the outdoor pool at the Richard Bozon Sports Center in Chamonix (and its still 5 meters short, only 45 meters long) but its incredible setting more than makes up for the lost distance. Nestled in the heart of town, swimmers can look up and sight off the Midi or the summit of Mont Blanc itself.
Master's swim in Chamonix is part of the Chamonix Club des Sports which boasts 28 different sporting sections. The Club Natation de Chamonix is run by the trainer Jean-Christophe Guer or J.C. as we call him. The club was started in 1972 with 35 members and now boasts close to 170. Practices vary, but are held five times a week twice on Mondays and Thursdays and Tuesdays at noon. During the winter season you can even get up at 6am and swim with the high school kids.
The work outs are pretty demanding and focus equally on all strokes, not just freestyle. J.C's motto is that you must train all strokes to be strong at one and it also prevents repetitive injuries. Even though I can't swim the backstroke outside in a straight line to save my life, it stretches out my shoulders after a hard freestyle workout. Not to mention how burly training fly is in a longer pool.
When I first joined the club I had to relearn all swimming terms in French. IM (international medley) for example is quatre-nage and the butterfly is called le papillon. For the first few practices I never managed to get the workout right and just followed Vanessa, the speedy girl in front of me or just kinda did my own thing pretending I knew the drill. The sprints at the end of practice were also interesting as their call to start was a little different. Instead of on your marks, get set, go - it was get set, go! Or sometimes there were three commands so inevitably I left too early or too late much to everyone's amusement.
My fellow French swimmers tolerated me with a smile and gave me lessons while holding up certain items repeating the name in French. Kickboard = La planche. Lane = couloir. I can now understand most of the terminology and apologize in the right language when I run into someone because I am too busy staring at the view. But thanks to that same view I never miss a practice - even when its raining and we can see the snow on the Mont Blanc.
Interested? Master swim programs are very popular and most certainly there is one near you, check with your local pool or community center.
Aug 10, 2010
Biking the Grand Col Ferret in Switzerland
Last week I drove support for a crew of folks running around the Tour du Mont Blanc with Sierra Mountain Guides. Having put long trail runs on the back burner in exchange for triathlons and mountain bike racing, I grabbed my mountain bike and followed them around via and biked while they ran. The fun part about driving a nine passenger van was my bike fit in easily and it was a cinch to change clothes.
After depositing everyone where they wanted to be in Champex, Switzerland after the day;s run, I drove back up to La Fouly at the end of the Val Ferret in Switzerland with the intention of biking one of the many cols on the TMB, The Grand Col Ferret (elevation 2537 meters). I anticipated it was about ten kilometers up and maybe 1000 meters of elevation gain - give or take a few meters.
Elevation from La Fouly to the Col and down into Italy
The first part of the ride was on asphalt through the town of Ferret and eventually gave way to a dirt road and then split - one continued on up towards the left and the other down into a parking lot that then rose up the opposite valley to the right. I did not see this other road at first and followed a German rider for about half hour or so until the road ended at an area I believe was called Plan de la Chaux. Aha. I looked across the valley and could see the correct trail leading up to the col. Had I continued that route I would have walked my bike a very long ways up to the Col Fourchon.
Instead I rode down losing all my elevation and started again up the correct route. A nice dirt road, but rather steep at the start with a few switchbacks. It was Swiss Day and many families were out walking the hills and eating at the small restaurants or alpages that dotted the valley. I rode along for another thirty minutes and came to the Alpage La Peule I had seen from across the valley. Getting off the bike to walk through the wood chips (and it would be weird to ride past all the tables) I noticed it was comprised of a nice main hut and a few yurts that could sleep in total 32 people.
After the hut the trail became a single track and rose rather steeply for the first three switchbacks or so requiring some hike-a-biking to the confusion of the bell clad cows that stared as I went by. The last hour or so the trail flattened a bit with some steep technical lung busting sections that I could see from a distance. I tried to plan my vertical attack on these sections while resting on the flats in between. Mainly the trail traversed gaining elevation until the notch of the col was visible which - at certain points to me - seemed to be getting father and farther away. One section had a slight bit of exposure for a few hundred meters or so - nothing to bad but a fall would have required rescue perhaps by helicopter.
I caught some Italian riders with full packs who had ridden the full Tour du Mont Blanc. I rode with them for a bit enjoying being in a group as well as their cheers when I would successfully navigate a technically difficult uphill section. These sections seemed like mini sprints made worse with the growing elevation. In any case, biking with Italians is fun and motivating!
We made it to the summit and encountered some riders coming over from the opposite direction - the Italian Val Ferret. We stood for a group photo and as the only female biker and an American at that, I got a lot of commentary and questions. A few minutes later as the wind picked up I bid farewell to my new friends and rode back down the way we had come. The track was perfect for the descent - the technical difficulties disappeared with the help of gravity and it was one of the most enjoyable single tracks I have ever ridden. The trail was still a bit wet from the previous nights rain making it solid and even the steep sections were easily ridden all the way back down to the hut.
All and all the trip with the short detour took about two and a half to three hours and was one of the best experiences on a bike I have had to date. If walking or running isn't your thing, the TMB on a bike is great option. I found a great site with planning information here courtesy of Alps Mountain Bike.
Aug 05, 2010
Le grand defi, a lap around the Mont Blanc massive
The Massive du Mont Blanc may as well have a big red target painted on its many faces. People come from all over drawn to the ragged peaks and vast network of trails around the roof of Europe. The Massive can be explored on foot, skis, bike and para-glider just to name a few. Living at its base I have skied parts of it, run around it and just about a week ago rode my bike around the 330 kilometer road route that circumnavigates the great giant.
"Did you do it in a day?" is a question you hear a lot around here, did you climb the Mont Blanc in a day, did you do the course in a day, did you…insert "athletic feat" here. More and more race organizers and people on their own are tackling larger and more impressive physical goals in shorter and shorter periods. The Tour du Mont Blanc Cyclo was a new event this year produced by the same organizers that bring us Le Marmotte, and dared riders to ride around the Mont Blanc in 18:30 hours or less at a minimal speed of 18 kilometers an hour. Do-able you say? Sure, but don't forget the over 8000 meters of climbing and seven cols included in the route.
I heard about the race the beginning of June from a friend and talented cyclist who also races ski mountaineering. Unsure if I could actually do the event I was attracted to its simplicity - around the massive in the mystical day. The ride was tagged for "elite riders" and that I am definitely not, but I am an endurance bunny so I focusing on training in the little time I had.

Returning to Minnesota for a month was not the best way to kick off the training regime, but my father has a nice Trek from the Discovery era and I rode many flat miles on it exploring the lakes, prairies and farmlands of Minnesota. I also had to use his shoes which were a tad too big. I rode places near my home I had never been and was stunned by the landscape and actually was able to study lots of corn. Being the good Minnesotan I am I love corn and was surprised at how high the stalks already were. Farmers have an old saying, "knee high by the Forth of July," well it was almost chest high. Bumper corn crop everyone and I am going to miss it.
I did manage a weekend in Aspen and through the generosity of two friends, Wendy Wogan Williams and Elliot Larson, I had the use of a road bike and a mountain bike. ZG's own Tom Hayles took me on a ride down valley to suffer in the heat for 80 miles, "Be good training" he said. He had no idea how right he was.
I returned to Chamonix on July 8th. The next day I met Valerie for a recon ride. We rope up to Champex and then followed it up with the monster, the Grand St. Bernard. The heat was intense and the 95k ride gave me the first indication that maybe I could finish this thing. People said I would finish no problem but in all honesty, I didn't know if I could do it. I was short probably 1000k training on the bike and for the first time in awhile was excited to put my body and my head to the test. I think it also cured my jet lag.
Eating and drinking would be the most critical so I planned on stopping at all aid stations. The 95 degree heat forecast would make it a necessity regardless. I had mostly solid food as after that amount of time gels and gu would make me sick. Instead I carried small bits of cut up peanut butter and jelly sandwiches, wafer cookies, bars and some power bar cola gel things which ruled.
Back to the start in Les Saisies. We rolled up to the line at 5am - not much of a line really - about 150 men and four women bunched together in the dark with lights on our bikes. The race was in actuality a tour and there would be no classifications but I was impressed with the looks of the people around me. Strong legs and some seriously nice machines. Thanks to Phil Martin I was on an awesome Cervelo with more mountain- friendly gearing than my Madone.
The first descent was gnarly - fast and not easy to see down the rough roads from the top of Les Saisies down towards Megeve. I stayed with a pack and tried to be ready to absorb unexpected unseen bumps. I swore more than once thinking I was going to go down. Once on the route towards Megeve and La Fayet. I stuck with a large pack and drafted for the next hour or so.
We arrived in Fayet and then headed up towards Passy, down through Servoz back up the small road leading towards Vaudagne. I had never ridden that road before. I noticed it was steep. We cruised through Les Houches and up the back road towards Chamonix right around 7:15am. I rode up valley passed my own house thinking more than a few times maybe I should just stop. Up the Col du Montets and then the Forclaz, we descended into Martingy at around 9:20am, well ahead of the 11:00 am cut off time. I stopped and ate well before the short but brutal climb up to Champex. Salami was the winner here, the salt tasted awesome as did the pound cake. For the third time in my European race career someone at an aid station asked me, "It's not too hard for you?" I looked around at all the men sitting and eating and wondered why she was asking me? I smiled, thanked her for the food and got back on the bike.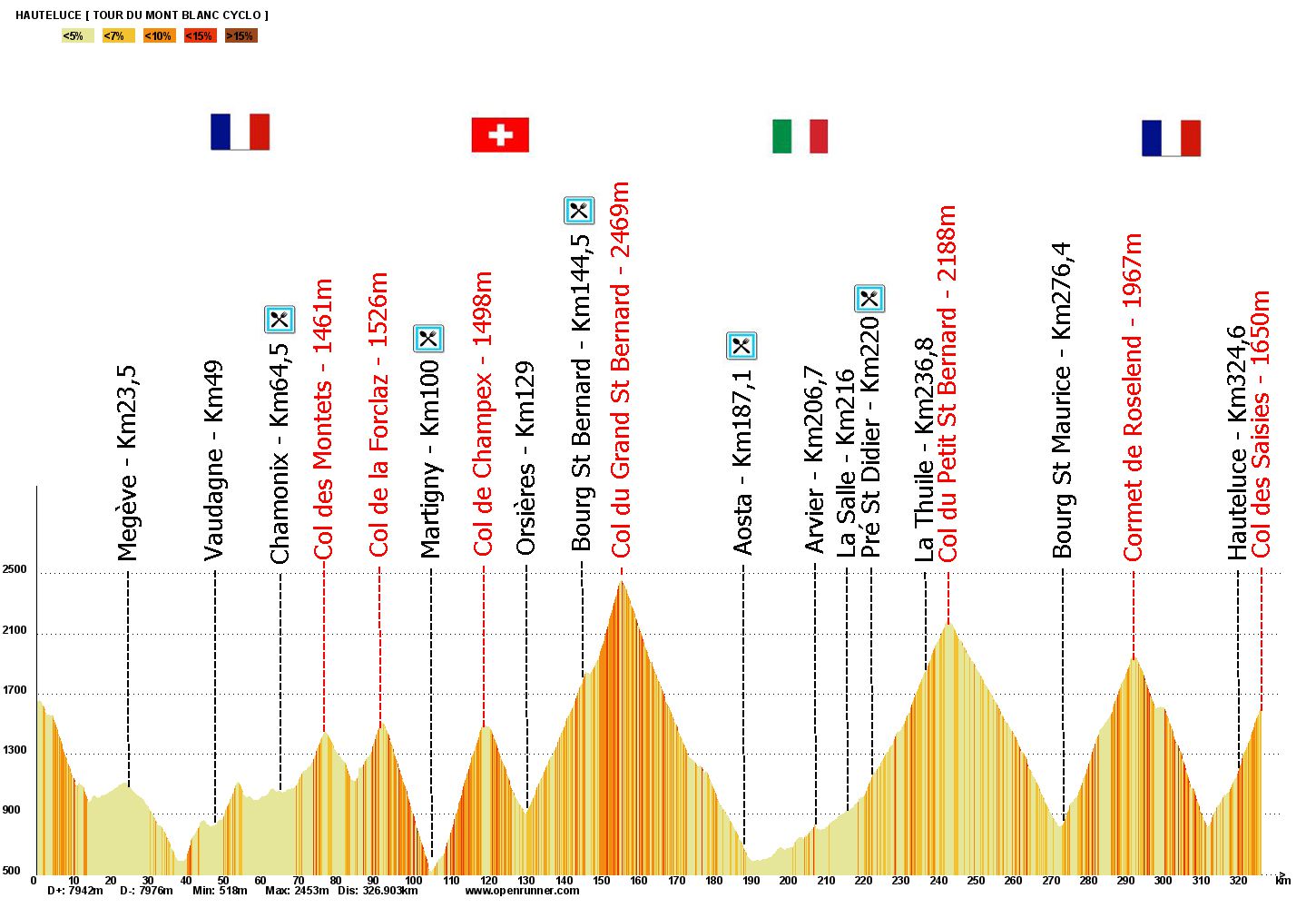 From this point on I was mostly alone, passing the same men over and over again and vice versa. The climb seemed endless but I was happy I had just ridden it the week before so I knew the route. After a short descent into Orsieres, I started up the Grand St. Bernard in some serious heat. The road was full of cars and  construction. Before getting to the top we had to ride about five kilometers in a tunnel that went down to one lane at parts. It required a lot of focus and I was happy to reach the last 6-7 kilometers that lead to the top of the col.
Happy sort of - the last bit is really pretty steep and I kept passing men who had stopped, who then would start again and pass me, and then I would see them stopped on the next bend. No way, I was not getting off the bike since I didn't know if I would get back on. Reaching the crest of the col I passed the monastery on top and rode down past a lake I had never seen before. Again stopping quickly at the aid station to get water and some more cake. I had a severe lower back ache and I started to notice my lack of training. Time to recover on the downhill.
Not so much…the descent was endless and difficult. My shoulders actually began to ache from the breaking. The construction was brutal and I had to slam on the brakes a few times to avoid hitting cars. The road was uneven and my hands started to cramp. After about twenty minutes the road buffed out and I was able to descent and relax a bit until I hit the flats of the Aosta Valley.
The Aosta Valley
I turned and started up the 30k to the base of the Petit St. Bernard and it felt like someone turned on the hair dryer…on high. A strong, hot headwind greeted me the entire way. Once at the aid station I dunked my head under the spring and sat down in the shade for a few minutes. My fellow bikers were looking a little rough and a few chose not to continue.
On I went through Pres. St. Didier up the Petit St. Bernard - which there is nothing petite about. Twenty kilometers and a few false summits I was glad I had ridden it last year to watch the Tour. Strangely no camper vans or flags waited this year, but one random race photographer snapped away as I passed. It sure looked a whole lot different without the Tour mayhem.
Having never been over the backside of the pass I was surprised again to pass a lake before descending another endless road, this one flatter than the rest. About halfway down I noticed I had left my water bottles with the nice man who offered to fill them for me. As it was still a million degrees it was going to be an issue. Secretly I hoped they figured it out and would send a rider down behind me, but who was I kidding, where would they carry them???
Once in Bourg St. Maurice I spied a pizzaria and ran inside to buy 2 bottles of water. The race required that you carry fifty Euros in emergency money, lights and a bright yellow vest. The Euros came in handy and I threw the Evian in my cages - they almost fit and my tired fingers struggled with the screw caps, but it was better than nothing.
Road up the Roselende courtesy of Trek Earth, no way I could stop to take a photo.
The course referred to the Cormet du Roselend as a "mysterious" col. I knew nothing about it and the start was rather uneventful, a small road with a million switchbacks that rose pretty quickly up in elevation through evergreen forest. Fortunately each kilometer (19 of them) was marked with a white marker so I could count on my way up.  However, I got confused a few times and there were uphill markers, and then the kilometers marked for the descent as well. This was kinda confusing, was the summit not the summit? So anyway I would count down the klicks, 6…..6.5…..7… and so on. I had met a fellow American, Ben, at the hotel (who was the third man to cross the line with a time of 12:58) who had texted me his phone number in case I wanted to be picked up. At first I might have been slightly insulted, but the last two cols it was a comfort to know someone somewhere would come get me.
The Roselind is stunningly beautiful and was my favorite of the ride. After the steep climb out of the forest the climb flattens out, I was relieved - for about a minute until the wind hit. More headwind. I could see a rider on up ahead so I kept pedaling away assured I was not out here alone. I sang along out loud to my Ipod Shuffle. Eternity passed while hurricane force winds blew. I made it to the summit. One more pass to go.
Les Saisies and the Mont Blanc
The descent was just as amazing as the climb, down a few switchbacks past a beautiful lake and down again steeply into a forest. I had to brake quickly for a confused fox. It was starting to get dark and bugs were also becoming an obstacle. Ouch.
Finally I reached the base of the final climb up Les Saisies. Night was just falling and if I was not so ready to be done and off my bike it was almost magical. All the chalets were lit up and the temperature had not yet cooled. The moon was rising and I could see the night star. All of this beauty was spoiled by the fact that the climb was friggin' STEEP. Passing cars would linger behind me for a few minutes giving me a bit of light. I had caught a few riders and we all rolled into Les Saisies together.
They had a pretty nice buffet laid out and I recovered my lost water bottles in the lost and found. It took a few minutes before I could manage to eat and I watched as the last people finished.  Of the 150 men who started just under 100 finished, and of the 4 women, 3 made it across the finish line. I was the third and sincerely mean it when I say I was just happy to have finished and competed the lap in…a day.
Brava to Valerie for sharing this adventure with me and for ripping up the course in an incredible 15:35.