Mar 29, 2010
Tour du Grand Paradis
The Tour du Grand Paradis has got to be hands down one of my favorite races. Its in Italy (meaning great food and prizes), it's well organized, the course runs up the Grand Paradis, a 4000 meter peak (the highest peak entirely in Italy) and the ski down is spectacular. And did I mention it's in Italy? I LOVE Italy. I had previously done this race before under perfect conditions in 2008. However, due to ice at the top we had to stop 100 meters short of the official race summit but were able to finish the rest of the marked course. I was excited for another chance at the summit this year.
I signed up with fellow Chamonix Ski Alpinism pal Nuno Caetano and it would be the first time I competed on a mixed team. Nuno is much stronger than I am so we had planned to use an elastic to stay together on the way up since normally he would leave me in the dust.
We left Chamonix at four am after a few days of dubious weather and crossed through the tunnel to Italy. I was doubtful the course would be run in its full entirety after so much precipitation. After an hour and a half drive including a stop outside a night club confirming directions with leather clad late night Italian clubbers we arrived around seven am and started to suit up (in spite of a few attempts to get us to join the party). The race crossed glacier and required us to wear harness, via ferrata kit, an extra layer for warmth, carry crampons and be roped. Nuno would carry the rope and I would take the extra layers.
Both of us were suffering from a cold and decided to race for fun and acclimatization for upcoming races. No stress we kept saying to one another, just nice and easy for fun. We lined up at the start one of a record number of 220 teams and learned the event was to follow the original course. Yippee! Looking up we could see the sky was clearing and a moderate wind was blowing a little snow aloft. I was excited to get up high.
We started slow which proved to be comedic when the course immediately turned into the forest. 500 racers fought for space on a technical single track. We laughed as we heard racers mumbling, "Madonna," and push past each other. We waited at the back and took photos while marveling at the controlled chaos. Perhaps next time a kilometer loop before heading up the single track could spread the competitors apart.
A few switchbacks in we got into a rhythm and began passing people from the back. Once in the open the course was well set with three tracks and numerous kick turns. It was not the best course for using the elastic so I sent Nuno up ahead so he didn't freeze and we both went at our own pace. He would look back on occasion and I would give him the thumb's up.
The race started at the Alp Terre in the Valsavarache at 1834 meters and I started to feel the altitude just past the Refuge Chabod around 2800 meters. I gladly accepted a warm tea and smiled for the camera as Nuno clicked away. It was fun to be so relaxed on course. Because we were traveling at a slower pace I was able to observe other racers and all the terrain and actually learned a great deal about what I would do and not do in future events. I was also able to pick up trash left by careless competitors. It was a bit like being able to examine a race in slow motion.
Up and up we went towards the toe of the glacier and I began to see some of the top racers skiing back down. Unsure of what was going on I continued on. The course reached an open section and I was bombarded by strong winds and had difficulty seeing due to blowing snow. The temperature was dropping and my fingers were freezing. I caught up to Nuno and he explained the situation as we put on our down jackets. The race had been stopped due to 85-100 kilometer winds and -15 degree Celsius temperatures up high. We were allowed to continue to the base of the boot pack at 3400 meters but no further. The first teams to reach that point had been deemed the winners. For results click here.
We roped up and went as high as allowed enjoying the tour and acclimatizing. They sky had cleared and the views were stunning. At the last checkpoint we turned round and practiced skiing roped which is not as easy as it looks. Back off the glacier we skied some great powder back down through the woods walking the last steep bit to the valley floor.
We changed out of race gear and headed for our reward, the Italian lunch including meat, polenta, bread and table wine. In spite of not reaching the top it was a great training day filled with lots of laughs and another great day in the mountains.
Mar 23, 2010
The 25th Pierra Menta - why do we do it?
This year marked the 25th anniversary of the four day ski mountaineering race the Pierra Menta. It was my third time bellying up to the start line and each year after the grueling event I had considered not doing it again. In fact my teammate and I had looked each other in the eye and said those very words and seriously meant them.
Crazy stats, four stages, 10,200 meters of climbing, multiple boot-packs and technical ski descents aside, what exactly is it that drives people to do this event year after year (some do it for vacation, others on are on their 14th year), in fact what is exactly it that compelled me to do it again? I sat and mulled it over this week while I was prone on the couch recovering from our 16 plus hour ordeal while stuffing my face with slivers of cheese courtesy of the huge hunk of Beaufort we won for placing ninth. I have learned cheese does not necessarily go great with every meal.
I digress, back to the race - It certainly was not the five am wake ups and the seven am starts that brought me back, it was definitely not the cold wind up high and the freezing fingers, it was not the pushy men on course (chivalry is dead in most cases on course with the exception of a gallant few), it was not the ice cold baths we took in attempts to recovery our legs for the next day, it was not the weird fleece jacket we got each year, it was not the racers behind me that would kick my skis letting me know they wanted to pass, it was not realizing my Camelback tube was frozen and you had no water, it was not eating gels and getting the gooey stuff all over, and last, it was not the co-ed group massage atmosphere at our 30 minute session each day (included in race fee) and the things we got to see that we really didn't want see. Lots of bad underwear choices out there guys. Think it through.
Now that I have sorted out what it wasn't, I will try to express what got me out of bed each morning. It was the ability to communicate with my partner without speaking. It was the fact that when I was tired she would help me with a pull and when she felt bad I repaid the favor and pulled her. It was pushing ourselves to the limit while experiencing some amazing landscapes and the rapid descents through the trees and steeps that gave us the adrenaline for the next up. It was the guide on course who would play "Glory Glory Hallelujah," in honor of our American heritage when we passed (for video click here). It was the relief and joy when we finally hit each summit and could fly to the finish sensing the end was near. Most certainly it was the people on course constantly cheering "Bravo les filles, courage", and the hundreds of people awaiting us on the summit of the Grand Mont. Our names were on the starting lists and people who didn't know us would cheer us by name and I was motivated by their respect as we skinned past. It was also cheering for the other people suffering on course and knowing that everyone felt the same as you did. It was the feeling of being a part of something. It was knowing even though you felt like quitting, you weren't going to stop.
There is a certain something about being in the mountains with others that heightens all experiences and is not easily described. Once you experience this with someone you are bonded for life. Take the feeling of reaching your first summit under your own power (no matter the length or elevation) and add the intensity of being in a element that requires obeying the unwritten rule that while you are racing against everyone you are also simultaneously responsible for their safety and well being.
Examples of this mountain spirit include an incident at our first Pierra Menta involving one racer jamming his pole under my partner's skis while the other grabbed her pack to keep her from sliding down a technical icy slope. Last year a racer handed over his last Powerbar when one of us was bonking on a hot stage that went on forever, and this year, a French racer from Sallanches stood behind me on the arete of the Grand Mont singing his French traditional songs to distract us while we waiting our turn to climb in the freezing wind.
So I guess no one wants to remember the pain and the suffering (and how quickly we forget) of each stage and the range of emotions we try to conquer. Instead it is the feeling of each summit climbed, the exhilarating descents and dropping into a tuck to fly across the finish line that keeps us coming back for more and the certainty that my teammate, as well as everyone else out there, was with me each step of the way.
Thank you Nina, for three great years of racing and thanks to all the guides on course who guide us safely through the course.
And this time we mean it, next year we are spectating. It's your turn.
Mar 02, 2010
Chamonix Skate and Run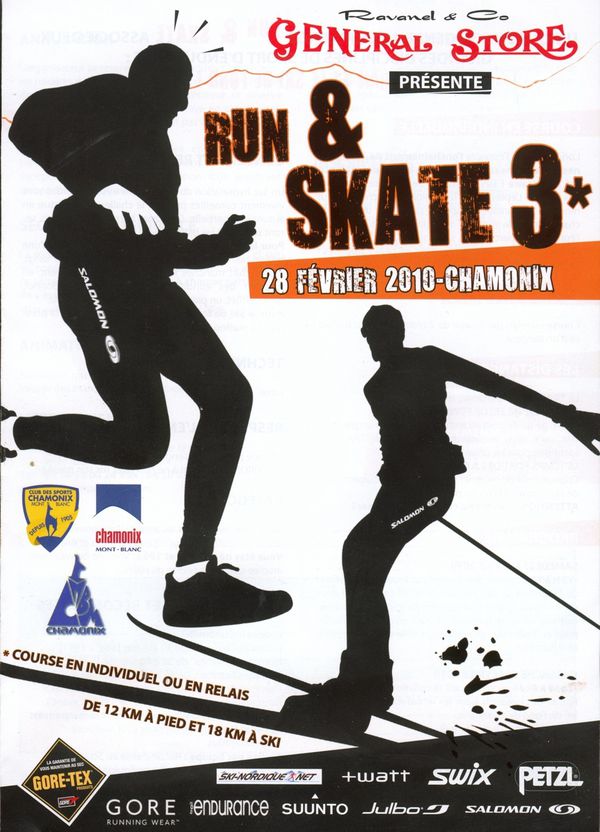 A fellow ski mountaineer Sari Anderson recently gave me a great piece of advice. I had asked her how she always keeps such a tough mental focus while racing year round. Ski mountaineering is a harsh sport with a long season, it is easy to get burned out. Sari who is also professional mountain biker, adventure racer and a mother of almost 2 (one on the way) suggested signing up for something different, taking a break from the normal schedule and trying something new.
For the third year running, Chamonix held a winter duathlon of sorts called the Skate and Run. The event can be done as an individual or in teams. Bingo, perfect idea. I called my trusty running pal Mara and we signed up for the relay. Mara would complete the first 12 kilometer snow run and I would attempt the 18 kilometer skate ski.
I own skate skis, I have taken a few lessons but I would not call my self a "skater." Patient friends have taken me out and I can manage all right, but I am quite certain people who see my technique would have a lot to comment on, I skate with heart so to speak. I had never done any kind of skating race, but I certainly watched enough on television of late with the Olympics and all so I felt ready.
The morning of the event it was pouring rain. We met at the Chamonix Nordic Center for the briefing and dressed appropriately for the full on drenching downpour and talking about how to deal with the wet snow turning to slush turning to huge puddles. Mara wore Yaktrax on the bottom of her shoes for some additional traction and I had some structure put onto the base of my skis.
The race was postponed for about twenty minutes until the start was announced and all the racers took their marks on the line. Mara positioned herself on the line only to realize right into the run there was a huge puddle to navigate after the start hampering her strategic start plans. The course alternated between road and trail. We watched her take off guessing we had a little over an hour until I needed to be ready to roll.
I changed quickly and stayed out of the rain with my pal Meg as my sherpa. The weather seemed to be improving (less downpour more drizzle) and I made sure all was in order for my start. Mara came flying in third female, and first female for female teams. She tagged my pole and off I went on the first of two laps thought the Chamonix course. Later she explained some of the hazards of the course included watching a fellow racer unsuccessfully negotiate an icy traverse through the forest while she held tight to the nearest tree branch and waited for him to climb out before carefully crossing the same section.
The snow on the skating trail was ankle deep mush and it was a bit like skating in peanut butter. The first loop I managed well enough but gave up trying to get water from my waste pack, with the poles strapped onto my hands it was a bit like being Edward Scissor Hands and there was so much water falling on me I figured I didn't need to drink any.
I was grateful to all the cheerleaders on course and actually enjoyed some of the hills more than the flats since skating through water was not my forte. Some of the track was covered in branches and I had one almost spastic moment when I ran over a pine cone. I was able to improve a bit on my technique by mimicking the racers that passed me.
As I shuffled through the last kilometers of the course I kept thinking to myself, "I just want to finish this!" Alternated with, "Holy moly those guys in the Olympics are insanely fit!!!" I had a silly grin on my face when I finally crossed the line and loved having friends Meg and Ali cheering me along. Later on we even learned we managed to hang on to first place for female teams which was awesome - but this was not about the podium, more just a reminder of how much fun racing can be due to the feeling of satisfaction achieved with completing a new goal and the people you get to share the experience with along the way. Brava Mara, Ali, Meg and Sari - and thanks for giving me a boost for the rest of the ski mountaineering season.
Does the skate and run sound like something you want to try? Click here for more event ideas.